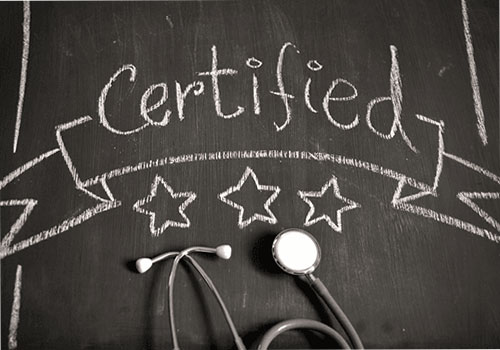 The question asked by many professionals in the Sterile Processing industry is, "How do I get certified?" They range from those who have several years of experience to those with no experience at all. Since the Covid shutdown, many would like to enter our profession and become certified. This article will share some proven methods to approach and achieve certification.
When trying to reach a goal, the first step is to plan and the immediate second step is to start. Do not hesitate. When planning, there are many decisions to make. Which certification board do I choose? How should I approach it? What are the time commitments?

The Why
Often the question posed by professionals who have worked in Sterile Processing for many years is, "Why should I have to get certified?" There are several reasons, including that many hospitals require certification upon hire or within six months of being hired.
The most important reason, in our opinion, is to ensure delivery of quality instrumentation packages to customers and patients. Certification is the gold standard for Sterile Processing (SP) professionals, a status that equips technicians with knowledge of the rationales of each task performed and gives them the necessary tools to think critically through exceptions in the process. A straightforward example of this is when a technician is in decontamination, and unsure if an instrument should be submerged in water. If certified, the technician will know how to find the correct measures to process the item correctly.
Let's test it out for practice.
Question: Where should a technician in Sterile Processing find the correct actions to take when processing a complex instrument in decontamination?
Answer: Follow the manufacturer instructions for use (IFU).
HSPA states the importance of certification is, "Patients rarely meet Sterile Processing (SP) professionals, but they rely on them just the same. They count on technicians for clean, sterile, well-functioning instruments. They count on them to follow best practices and stay ahead of the technology curve. Certification helps meet these expectations and ensures that SP professionals possess the essential knowledge and skills necessary for managing critical departmental duties safely, effectively, and consistently. What's more, the ongoing education required for SP professionals to maintain their certification status helps ensure that these professionals stay on top of ever-evolving instrumentation, technology, standards and best practices to keep SP departments functioning at peak performance."
The How
To accomplish the certification goal, there are two certification boards to choose from: Healthcare Sterile Processing Association (HSPA), formally known as IAHCSMM, and the Certification Board for Sterile Processing and Distribution (CBSPD). Each has requirements to obtain and expectations to maintain. Continuing Education Units (CEU's) are required to maintain certification status, and each level has a different amount of CEU's and different time constraints to obtain them.
HSPA provides two models to achieve certification status: a Full Certification, the recommended model, and a Provisional Certification. The technician certification for HSPA is called Certified Registered Central Sterile Technicians (CRCST). HSPA Full CRCST requires the applicant to provide 400 hours of hands-on experience during the previous five years. HSPA says, "Firsthand experience is essential to supplement an individual's understanding of Sterile Processing knowledge and concepts, and to illustrate their practical use."
This required experience includes:
●Decontamination (120 hours)
●Preparing & Packaging Instruments (120 hours)
●Sterilization & Disinfection (96 hours)
●Storage & Distribution (24 hours)
●Quality Assurance Processes (24 hours)
●Equipment (16 hours)
The Provisional Certification requires that the applicant provide 400 hours of hands-on experience within six months of passing the certification exam. The documentation of the completed hours of hands-on experience must be submitted to HSPA before the six-month expiration date.
CBSPD requires *ONE* of the following to qualify for the Certification Board for Sterile Processing Technician (CBSPT) exam:
●Completion of 12 months of full-time employment or equivalent part-time hours performing SPD activities
●Completion of a Sterile Processing Technician Training Course with a passing grade of 70 or higher
●The culmination of 6 months of full-time employment or equivalent part-time hours in related allied health, as well as performing SPD activities in SPD, or culmination of 12 months of healthcare product sales or service related to the SPD profession
The differences between the two certification boards are that HSPA requires 12 CEU's to be submitted each year, and CBSPD requires 100 CEU's every five years. In addition, the CBSPD exam is proctored at certain times of the year, and the HSPA exam is provided at any time throughout the year.
The Approach
In deciding how best to approach your certification, make sure to consider your schedule and your personal study habits to ensure a successful outcome. Self-study is one option, and it works relatively well if the person is a motivated self-starter. It is easier to pass the exam using this method if one already has experience processing instrumentation. The second option is with an educator in a classroom. There are many classroom settings available, some offer a lab for practical application or even provide an externship in a local SP department. The third option is in online classes, with lectured material for each chapter and exams online. The advantage of an online class is testing. This provides multiple opportunities to practice for the proctored computerized certification exam. Many online programs offer instruction via recorded videos but do not provide availability for a live instructor. As sterile processing professionals are usually hands-on learners, it is most helpful to have question and answer sessions with a live instructor. There are few programs that offer this option. Advantage Support Services is one such provider of the hybrid- learning option.
Strategies to Prepare
Many SP technicians have been out of school for years and sitting for a timed exam with many multiple-choice questions can be a little unnerving. In preparing for the "real" proctored exam, there are many ways to practice.
●Set a drop-dead date to register for the exam. This will provide you with a timeline for you to complete all the exams and Q&A sessions.
●Take a mock certification exam when you register and continue to revisit what was missed initially before sitting for the actual exam.
●Time yourself when practicing. Both boards give you a certain amount of time to complete the exam, usually three hours. The proctored exam will provide you options to skip some questions and give you the ability to review and answer before ending your test.
There are also some important strategies you'll want to remember when taking an exam with multiple choice options. The dilemma is in the title. There are too many options. Proven approaches for choosing the correct answer on a multiple-choice test are some as follows:
●If one of the answer choices strikes as accurate at first glance, that's the one. Choose that one. Let me say again, choose that one. Don't second guess yourself. Just move on to the next question.
●If you read the question and your first thought is, "Oh no, I don't know this," then read the question and each of the options. Re-read the question and look for the wrong answers. There are usually two that you can get rid of immediately. Then re-read the question once more and choose the best of the two options you have.
●Another test tip for selecting the correct answer is to read only the words and the answer options provided. Do not add your own words. We can often be caught arguing with ourselves and rationalizing what we think the question means to ask.
In a proctored exam, the SP technician is usually in a room with glass walls so the proctor can see all taking the test. The problem for test takers is that they feel watched. This can be unnerving if you have not taken exams in a long time. This, along with clock watching during the exam can be very distracting. Make sure to prepare appropriately so as not to feel compelled to be sidetracked by the proctor or the clock. The key to overcoming these things is to focus only on the question and the four answer choices in front of you. And then the next question. Remember, by this point of the certification process, you have taken at least 10-20 exams. You should be very well practiced at this point.
Failure is Fine
For many years of teaching, I let my students know that the first test is a practice. For those of us with test anxiety, it is fine to approach your first attempt as a review of the test. If a student passes on their first attempt of sitting in a proctored space with the clock ticking and all those answer choices, wonderful. If a student does not pass, it's okay. It's only a practice. You will be much better prepared for the next attempt because you have experienced it and gotten some hands-on experience with this process. It will be okay. You will be certified soon and be able to achieve your goal.
In Conclusion
Knowing the rationales for tasks performed in each stage of processing surgical instruments is key to providing a quality product. It not only serves the customer and patient well, but the SP department. It's the key to raising the standard of care. Certification within a department increases the department culture, which helps all of our customers develop and maintain a trusting relationship. They will have confidence in knowing that we "know." We are the experts in instrumentation, and our customers should have that level of confidence in all the instruments received from SP.
Both boards provide the following levels in an SP department to management status and other departments, like endoscopy and ambulatory surgery centers. Join us in the second part of the article. We will share some details and resources for those who are already certified as SP Technicians or even for leaders in the department who would like to achieve higher certification statuses.
References:
Jsupport. (n.d.). Certification Overview - Healthcare Sterile Processing Association (HSPA). Retrieved August 30, 2022, from https://myhspa.org/certification/iahcsmm-certific...
SPD technician certification exam C.S.P.D.T. CBSPD. (2022, August 1). Retrieved August 30, 2022, from https://www.cbspd.net/tech/